Short Courses and Conferences
Mineral Processing - An Introduction to the Principles
June 10-14, 2013
Course Description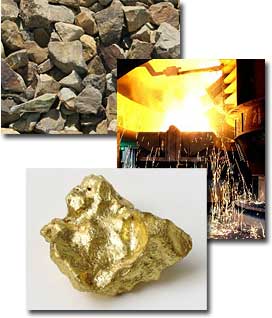 This course is designed for engineers, chemists, and others working in the mineral or particulate materials processing industries who could benefit from a refresher and update. It is intended to provide the practicing mill engineer with a knowledge of the current technology and an understanding of the fundamental processes on which mineral processing operations are based. It is also intended to assist individuals associated less directly with the mineral industry, such as those in technical sales, regulatory agencies, and related fields.
The course will emphasize science and engineering principles and their application to operations. Topics covered will include characterization (mineralogy, size, surface); material balances; analysis of separation efficiency; size reduction; size separation; flotation; gravity separation; and other concentration processes; solid-liquid separations; and materials handling. The final session will concentrate on integration how the various processes relate to each other and how they are controlled. The course will be based on the book, Introduction to Mineral Processing, written by the course instructors. A copy of this book will be provided to each participant.
Upon Completion...
Colorado School of Mines will award 2.5 Continuing Education Units (CEUs) upon completion of this course.
Instructors
Dr. David J. Spottiswood is Emeritus Professor of Minerals Engineering at the Western Australian School of Mines.
Dr. Errol Kelly, now retired, was Associate Professor of Chemical & Materials Engineering at the University of Auckland, New Zealand. Learn more...
Course Agenda
An agenda for the course, including a listing of the topics covered, is available. Learn more...
Location
The course will be taught on the campus of the Colorado School of Mines in Golden (near Denver), Colorado USA. Learn more...
Fees and Registration
Registration for this course is open now. Enrollment is limited; therefore, applications will be accepted in the order received. Full information about fees, options, and payment methods is available. Learn more...
Travel and Accommodations
Registrants are responsible for their own travel arrangements, transportation, lodging, and meals. Additional information is available through the links below.
Further Technical Information
For more information about the course content, please contact:
Dr. David Spottiswood
E-mail: davespot@bigpond.com

Dr. Errol Kelly
E-mail: ejkelly@clear.net.nz