Short Courses and Conferences
35th International Intercollegiate Mining Games
March 13 - 17, 2013
About the Games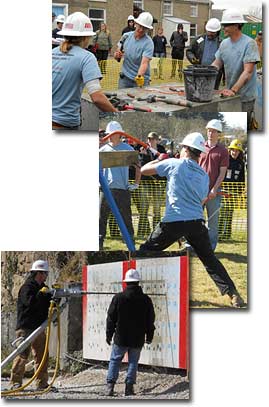 The International Intercollegiate Mining Games started in 1978 as a way to honor the 91 miners who died in the Sunshine Mine disaster (Kellog, Idaho USA) in 1972.  As the competition  evolved, mining schools throughout the world have alternated hosting the event each year.  Teams represent universities throughout the United States, Canada, Australia, England, Germany, and Holland.
Mining competitions have been an integral part of the student experience at the Colorado School of Mines for decades.  In the last three years, a renewal of interest has culminated with Mines competing in the International Intercollegiate Mining Games.  While CSM has a long history of students competing in mining competitions throughout Colorado, the Intercollegiate games are something bigger to be a part of.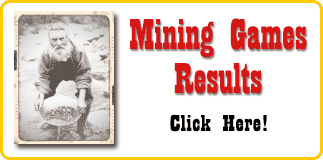 Competition
The competition is comprised of seven events:
Track Stand


A timed event requiring a team of five people to add a section of rail onto an existing rail as quickly and accurately as possible.

Ore Muck


Five members work to fill a 2-ton ore cart and run it down a track for the best overall time.

Gold Pan


Competitors search for flattened lead shot in a dirt-filled gold pan.

Swede Saw


A team of five will alternate cutting through a 6"X6" timber with 36" bow saws.

Hand Steel


Five members drill into a concrete block with chisel-like steels and a hammer, alternating individuals every two minutes for the deepest cumulative hole.

Jackleg


Two competitors use a pneumatic drill in order to advance the deepest hole in a concrete block in 3 minutes.

Survey


Teams of two must accurately compute the coordinates of an ending point using a Wild T2 Mod (erect image) theodolite.

Join our Facebook group!
Preliminary Itinerary
A preliminary itinerary and schedule of the competions is available. Finalized itineraries will be e-mailed out to teams in February. Learn more...
Rules and Regulations
If you have any questions concerning the Rules and Regulations governing the competitions, please feel free to contact:
Patricia Capistrant
Phone: 775.220.2532
E-mail: pcapistr@mymail.mines.edu

Rules for the Games are available for download now. Download...
Location
The Games will be held on the campus of the Colorado School of Mines in Golden (near Denver), Colorado USA. Learn more...
Fees and Registration
Registration for the Games is open now. Participation is limited; therefore, applications will be accepted in the order received. Full information about fees, options, and payment methods is available. Learn more...
Travel and Accommodations
Full information about travel and accommodations is available. Learn more...
Sponsorships
Opportunities to sponsor the Games are available. Learn more...
Questions?
Please send any inquiries concerning logistics via email to: